ADVANCED BUSINESS PLANNING SOLUTIONS
Helping Business Owners Protect, Grow & Realize The Value of Their Business.
A business owner's personal financial success depends on the success of their business.
When it comes to running a successful business, your experience and expertise is your strength. It's the engine that drives your growth and sets your business apart.
When it comes to building and implementing the drivers to protect, grow and realize your business' value and success, working with a trusted partner with the skill, expertise and experience is crucial.
Let Aubrey Vaughn and his Team provide you with expert guidance to help you prepare for the unexpected and shape the future you envision for you and your business.

Who We Are
Aubrey is a Business & Estate Planning Specialist with Northwestern Mutual. He also serves as the Director of Business & Estate Planning at the Goodwin, Wright network office in Atlanta, Georgia - Buckhead.
With over 30 years of experience in the closely-held business market, Aubrey has a deep understanding of the numerous and often complex needs of business owners.
What We Do
Aubrey leads a team in carefully listening to what matters most to the business owner; then we help clarify and prioritize your goals and needs.
Once the Team fully understands the business owner's vision, we develop a plan designed to help you achieve your vision for the future.
The plan will feature cost-effective solutions that are customized to the business needs and reward employees for their unique contributions that make the business a success.

Our Areas of Expertise & Capabilities
Business Valuation
Business Succession & Exit Planning
Key-Employee Compensation & Benefit Planning
Group Benefits
Fee-Based Financial Planning
Estate Planning

The Planning Process
Aubrey & his Team use the following steps when working with clients:
Discovery
Learn about your business and what matters most, then help clarify and prioritize your goals and needs.

Analysis
Evaluate the various options that would accomplish your business and estate planning goals.

Plan Design
Work with you and your other advisors and other experts to develop a plan designed to help you achieve your vision for the future.

Plan Implementation
Coordinate business & estate planning strategies, review plan documents, and recommend appropriate, cost-effective solutions customized to meet the needs of the business.

Systematic Review & Plan Service
Follow up systematically to make certain your plan remains current and is updated as circumstances or objectives change.
---
Meet the Advanced Business Planning Team
Aubrey Vaughn and the financial representatives of Northwestern Mutual - Goodwin,Wright understand the complex needs of business owners and theri leadership team. Whether it is risk management, business succession, executive compensation and benefits planning, Aubrey leads his Team in designing integrated solutions to meet your needs.
---
Aubrey Vaughn's Publications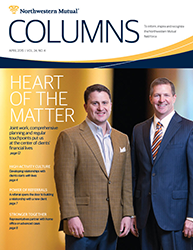 Northwestern Mutual's Columns
Aubrey Vaughn was featured in Northwestern Mutual's financial representative publication - Columns - highlighting key insights relating to his business owner clients.
"Heart of The Matter" - April 2015
He was also quoted in an article - "Just Good Business" - from April 2013:
"One key to entering the closely-held business market is making sure business owners view you as someone who can help them with planning and solutions, rather than someone simply trying to sell them insurance products."
Advanced Planning Bulletin
Aubrey recommends the following article on utilizing the supplemental executive retirement plan (SERP) with a business buyout.
"Combining a SERP with a Business Buyout" - July 2007
---
Recommended Articles for Business Owners
If you own or operate a business, Aubrey Vaughn recommends the following articles:
Click here to read additional articles.
With a focused expertise on the business owner, Aubrey Vaughn and his team can provide guidance for any stage of your business: